Long ago in a distant galaxy . . . or it seems . . . driving my parents station wagon to pick up my wedding gown, I heard Pat Boone sing Thee, I Love, the theme song from Friendly Persuasion—Dimitri Tiomkin composer, Paul Francis lyrics.
"Put on your bonnet, your cape and your glove, and come with me, for thee, I love."
Are those not the most romantic words? I got a picture in my mind at the time of a woman in a black cape, putting on her bonnet and following the man she loved, and I thought
"that would make a great story."
Fast forward twenty-plus years, and I'm a wannabe writer working on my third novel. The first two are Regency Historicals. Now I want to write an Amish Historical. Yes, I'd seen the movie WITNESS. I had also read SUNSHINE AND SHADOW by Tom and Sharon Curtis and A CRIME OF THE HEART by Cheryl Reavis. I was in love with a way of life.
As soon as I chose the prodigal son theme, I started writing and researching with a vengeance. We visited Lancaster Pennsylvania a dozen times, at least, then added Ohio Amish Country, like Winesburg and Sugarcreek, to our travels. Looking for research material on the Amish, I scoured used bookstores in those areas.
I now own 187 books on the history of the Amish. Yes, I recently counted them, and found more later. Of course, I've read them. Why so many? The internet had not yet come to life. (It became the world wide web consortium in 1994. Microsoft came onboard in 1998.) I found that on the Web.
In my travels, I spoke to a number of Amish men and women who were happy to answer my questions. I also spoke to several people who grew up Amish and had left the Amish way of life. (This was more than 20 years ago, don't forget. I believe that the Amish were more forthcoming back then.)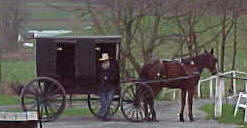 One morning, we got tickets for a buggy ride. I sat beside the Amish driver in the box buggy to get the perspective of a driver and started asking questions. He cocked his head quizzically, because I think he could tell I'd done my homework. "Well," he said, "you know so much, you drive," and he handed me the braided leather reigns. I drove all around that farm—no one else waited in line for a ride, so he gave us all the time we wanted—and I fell in love with that one-horse buggy, too, not to mention the dear old Amish grandfather beside me.
My intrepid husband sat in the backseat, speechless, and maybe a little scared but with a camera in his hands. Now that's a hero. I tipped us nearly into a stream trying to turn onto a flat bridge, no sides. But with my mentor's gentle guidance, I worked that horse, backed us up, unwedged the wheel between land and bridge, as it hung over nothing but water. And after I untipped us, I turned onto the bridge successfully and drove over it.
All the time I spent with those reigns in my hands, during easy and scary buggy-driving, that unruffled old Amishman gave the occasional soft-spoken direction and told me all about himself and his family. My clearest memory is that he had 72 grandchildren.
But I'd never gotten a better character lesson. I think he's part of every Amishman I ever wrote or will write. Strong, gentle, stoic, caring, kind, soft-spoken, bit of a twinkle in his eye, like God was telling a joke that only he could hear, and he listened and got the joke, no matter what else he was doing.
In June of 1998, the late, great Kate Duffy bought JACOB'S RETURN for Kensington Books as part of my first sale. They renamed it THEE, I LOVE and gave it a cover on which the "Amish schoolteacher" is so historically inaccurate as to . . . well . . . have cleavage. (See attached cover.) It sold out within the month, and never went back to print. Back then, publishers said, "Nobody wants to read about the Amish." Despite that, as THEE, I LOVE, it made its mark:
2000 Blue Boa Award of Excellence
1999 Francis Awards Triple Nominee:
Best American Historical
Best New Author
Story Need Most Tissues to Get Through
1999 Reviewers Choice Award Double Nominee
1999 Winter Wish List of Favorites
1999 Rdrs All Time Fave Most Hanky Read AAR
1998 RWA Golden Heart Finalist
In 2011, thirty-two Annette Blair books later, LeeAnn Lessard at Lachesis Publishing knew that people wanted to read about the Amish, and she wanted JACOB'S RETURN. I revised it and made it better, Lachesis copyedited it, I revised it again, and they gave it the cover it deserves.
I hope you cry and laugh and cry again, and enjoy reading JACOB'S RETURN as much as I enjoyed researching, writing, and re-writing it.
As a result of its re-release:
2011 #1 Kindle Bestseller, Amish Historical Romance, all formats.
2011 #1 Lachesis Bestseller, Fictionwise
2011 A Kindle Top 100 Bestseller US
2011 A Kindle Top 100 Bestseller UK
2
011 An Amazon US Bestseller
2011 An Amazon UK Bestseller
To buy JACOB'S RETURN:
Lachesis
Fictionwise
Kindle
Nook
Also available as a paperback.
Also:
Check out http://www.annetteblair.com/
for an excerpt of JACOB'S RETURN, and check out the first chapter of THE BUTTERFLY GARDEN http://www.annetteblair.com/excerpt_butterfly.htm Another Amish Historical, this one set in Ohio Amish Country, coming soon from Lachesis Publishing.
COMING TOMORROW, in store July 5, 2011:
SKIRTING THE GRAVE, the 4

th

book in my Vintage Magic Mystery Series from Berkley Prime Crime, is being released on July 5

th

, and is available now in paperback from Barnes & Noble.
To buy SKIRTING THE GRAVE: Kindle Nook
If you leave a comment, you have an opportunity to win a copy of JACOB'S RETURN or SKIRTING THE GRAVE. A winner for one of each will be chosen at random from your replies.
Please leave your email addy.
Check out my trailer for SKIRTING THE GRAVE:
If you leave a comment, you have an opportunity to win a copy of JACOB'S RETURN or SKIRTING THE GRAVE. A winner for one of each will be chosen at random from your replies. Please leave your email addy.
I'd like to thank Hannah Howell for inviting me, today.
Happy Reading,
Annette